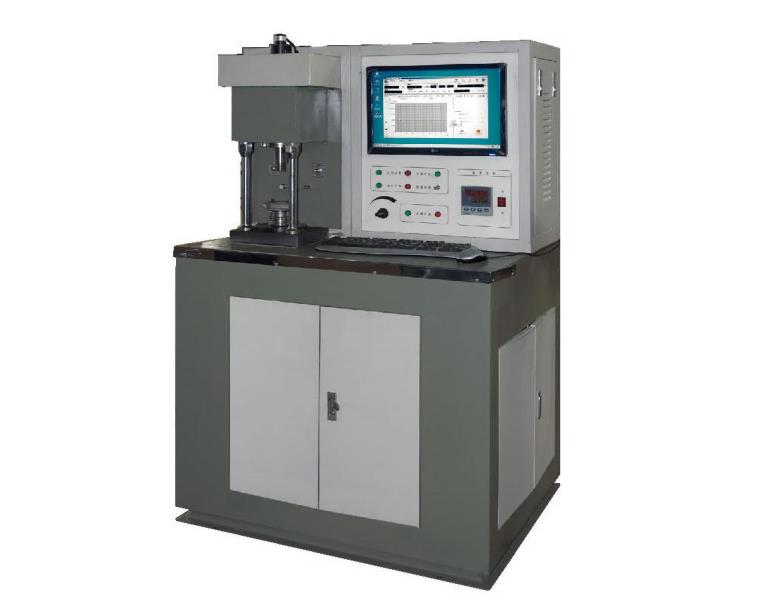 Introduction
Chengyu Testing Machine is a high-tech enterprise integrating professional research and development, production and sales. The company took the lead in passing the "ISO9001 Quality Management System Certification" and was awarded the title of "National Authoritative Testing Standard Product" and "National Quality Service AAA Level Enterprise".
The company has a software control system with independent property rights and a number of national patented products. The company gathers the industry's top material mechanics testing machine structure design experts, professional tribological testing technology program research and design experts, specially-appointed engineers and laboratory testing equipment analysis experts to provide lasting impetus for the company's development.
The MVFW-1A friction and wear testing machine produced by the company is a
friction form of rolling, sliding or sliding-rolling compound motion under a certain contact pressure. It has a stepless speed regulation system and can be used at very low or high speeds Evaluate the friction and wear properties of lubricants, metals, plastics, coatings, rubber, ceramics and other materials, such as low-speed pin discs (with large discs and small discs, single needle and three needles) friction function, four-ball long-term wear resistance and four-ball rolling Contact fatigue, ball-bronze three-piece lubrication performance, as well as thrust washer, ball-disk, mud wear, rubber seal lip seal torque and stick-slip friction performance test, matching reciprocating module can achieve reciprocating friction and wear motion. The testing
machine has a wide range of applications in various professional technical fields of tribology, petrochemicals, machinery, energy, metallurgy, aerospace, universities, research institutes (institutes) and other departments. The advantages of the company's friction and wear equipment are analyzed as
follows:
1. Loading method: This type of testing machine is the first time that our
company has introduced servo motor loading in the industry. It has strong
controllability and low failure rate. After years of continuous improvement, its
performance is stable and reliable. Among them, double floating bearing technology and gapless guidance technology And the buffer cross-balance technology is the guarantee of the accuracy and stability of the test force, reduces the system error, and ensures the accuracy of the test force and friction force real-time tracking measurement;
2. Main body structure: During the friction test, the impact of the vibration of
the motor and accessory parts on the wear marks should be minimized. Therefore, we adopt the overall main body, thicken the support plate, and use the Taiwan TECO servo motor to drive the main shaft. The related transmission components are also Use imported precision bearings;
3. Electrical part: The equipment adopts an independent embedded industrial
controller, an industrial metal touch screen, and an independent analysis module, which can effectively ensure the impact of the equipment on the performance of the control part when the equipment is high-speed or the oil film is ruptured and violently vibrated;
4. Control software: Software can generally achieve real-time acquisition, but we
are dedicated software independently developed (software for the transformation of universal universal material testing machines), and professional test programs can be established according to different standards. 5. Service team: We not only produce the equipment (for companies with no
R&D strength to assemble at will according to drawings), but also have an
independent technical service department (more than 100 research and
development friction and wear testing machines cooperated with colleges and
universities for many years), which can be real-time for specific problems We analyze and solve them. At the same time, the Hengxu Testing Machine-Research and Exhibition Center, which we invested and constructed in the national new material industrial park, has been put into operation, providing a stable base for the company's later R&D and expansion (lease of workshops, unlicensed production enterprises with potential safety hazards, quality and Service can't keep up).
Main Parameter
1. Test force
1.1 Working range of axial test force: 200N~1000N (steplessly adjustable)
1.2 Relative error of test force indication: below 100N ±2N, above 100N ±0.5%
1.3 Test force indication value, zero point inductance: ±1.5N
1.4 Test force automatic loading rate: 300N/min (automatically adjustable)
※1.5 Loading mode: AC servo loading (programming loading can be set at any
time)
1.6 When the test force is long, the relative error of the indicating value is
automatically maintained: ±1%
2. Friction torque
2.1 Determine the maximum friction torque: 2.5N.m
2.2 Relative error of friction torque indication: ±2%
2.3 Friction load cell: 1000N
2.4 Friction arm distance: 50mm
3. Spindle stepless speed range
3.1 Single-stage continuously variable transmission system: 1-2000r/min
3.2 Spindle speed error: ±2r/min
4. Test medium: lubricating medium such as oil, water, mud, abrasive
5. Heating system of testing machine
5.1 Heater working range: room temperature~260℃
5.2 Disc heating plate: φ65, 220V, 250W
5.3 Set of heaters: φ68×44, 220V, 300W
5.4φ3 dual output platinum thermal resistance: RO=100±0.1Ω (one set for each
length)
5.5 Temperature control accuracy: ±2℃
※6. Friction vice disc holding mode: no gap circumferential holding (patent
license for imported parts)
7. The taper of the main shaft of the testing machine: 1:7
8. Test machine control system
※8.1 Adopt industrial main board, touch screen control, HTMS advanced
version of professional friction and wear software, adopt high stability modular
integration principle, can set test parameters with one key, fully automatic loading, real-time tracking of the whole curve, and can zoom in, edit and save any Time period curve, curve is automatically optimized, single-point acquisition; real-time data recording, with power-off save function, can output shared data, and perform secondary editing and comparison processing;
8.2 With upper limit force protection, lower limit protection function, soft
emergency stop protection, time control, speed (period) control, friction torque
control
8.3. Time display and control range of testing machine: 10s~9999min
8.4. Testing machine speed (period) display and control range: (1~99)×105
8.5. The maximum torque output of the main motor of the testing machine:
5N.m
9. Main body: adopts casting integrated host, high-strength welding machine
base
10. External dimensions of the testing machine <L×B×H>: 860×740×1560mm
11. Net weight of testing machine: about 550kg
Control system
This new model of friction and wear testing machine adopts the HTMS
professional version control system, applies the latest control theory, optimizes the internal system of the software, and the software interface is novel and generous. Introduction to the advantages of the professional version of the friction and wear control system:
1. Adopt high-stability modular integrated control principle to ensure the overall stability of the system;
2. The interface is fully compatible, and the test parameters can be set with one
key, and it can be loaded automatically;
3. Real-time tracking of the whole curve, the curve can be zoomed in, edited and saved, the curve is automatically optimized, and single-point acquisition is possible;
4. Real-time recording of data, with power-off save function, can output shared
data, and perform secondary editing and comparison processing;
5. The software control process is optimized, engineers continue to innovate and improve, and software upgrades are all free;